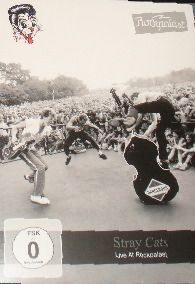 Stray Cats
"Live at Rockpalast"
The Stray Cats brought Rockabilly back in the early 80's yet sadly imploded once they became a household name. Brian Setzer maintains a steady touring schedule and still records music which sounds pretty much like Stray Cats despite the band no longer being an entity.
This dvd captures 2 live performances from the Stray Cats in their prime. The first show is from 1981 and highlights the band lean and hungry while the 2nd set displays the band in 1983 after they had "made it".
Brian's guitar playing sounds superb, Lee Rocker & Slim Jim hold down the rhythm, and overall this is the best documentation of what the Stray Cats were as a band because they kick ass on both concerts on this disc.
I am glad that Rockpalast are opening their vaults and releasing these amazing archival concerts because here in the United States the only way we could see these shows were via bootlegs.
Ghost In The Machine
"Broken From Binary"
I will say for the record I am happy this band recorded a cover of "Pressure" by Billy Joel because I've always felt like the song could be done by a current band and would sound modern and relavent...it's a frantic paced song with a very "dark" side to it and Ghost In The Machine do a great cover of "Pressure"!
Ghost in The Machine are a 2 man industrial band that sounds very polished yet at times they manage to maintain an organic feel despite the heavy production.
"Time To Go Gently" is my personal favorite off this record because the song structure is straight up metal with electronic elements meshed in. As a whole this record is solid and well written.
Scenic Void
"s/t"
This 5 song ep is a mellow and melodic romp into the inner subconscious of singer/songwriter Patrick Jennings. Shoegazey, artsy, and chock full o' depth, this disc is an interesting trip that you have to check out. Elements of Radiohead, Muse, Flaming Lips, and just a touch of the mellow side of Frank Black; that's where I'd say this bands sound falls between.
Video Beast
"Gooch"
I'm sad I didn't pop this disc into the player a bit sooner; I'll admit that I got backlogged with work and some of my reviews were sidelined. This record intrigues me with it's cover and the music is a fitting style to the records artwork.
NYC styled punk rock with riffs-a-plenty, fast paced, raw, and totally fresh sounding in this stale musical climate, Video Beast's latest work of art is a fun 10 song romp into the dark side of rock and punk. The lyrical content is secondary to the bands energy and sound; this record doesn't sound overproduced, it's got a very 80's rawness to it and I like that the band isn't afraid to change the tempos and experiment. "Bangalore" changes tempos and tones several times to where it's like a few different songs are combined as one.
Every song stands out as an individual which is a good thing because no matter which song you listen to it's a good representation of what Video Beast is about. The band is currently tearing up the NYC scene and hopefully will take their show on the road so the rest of the country can see what Video Beast are about.
Click here to "Like" Rock N Roll Experience on Facebook!